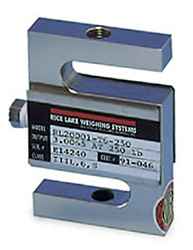 AC WILLIAMS SCALE CO., LLC has a wide selection of load cells and weigh modules for your industrial weighing needs.
We stock hundreds of load cells and load cell accessories. With so many options available, we have only listed a few featured products. If you do not find what you are looking for on our site, please contact us for more information.
S-Beam
Named for their s-type shape, S beam load cells are most often found in mechanical-to-electronic scale conversion applications, suspended hoppers or tanks and general purpose weighing applications. These load cells are available in capacities ranging from 25 lbs through 20,000 lbs.
Rice Lake S-Beams

Rice Lake offers s-ended beam load cells in an array of capacities, materials, and functions.

Celtron S-Beams

Select from several Celtron brand s-beam load cells.

Flintec S-Beams

Trust in Flintec's range of s-beam load cells for general measurement and weighing.

HBM S-Beams

Find the s-beam load cell you need from HBM. A wide selection of sizes and capacities are available.

Revere Transducers S-Beams

Revere Transducers is a well-known name in load cells, carrying a broad selection of s-beam cells for industrial weighing needs.