Scale Sales, Scale Rentals, Scale Services, Scale Calibration
AC WILLIAMS SCALE CO., LLC., a distributor and dealer of industrial weight and measurement scales as well as industrial weighing systems, provides scale sales, scale services, scale calibration and related services throughout Buffalo, Niagara Falls and the Greater Western New York area.
Our mission is to provide scales for industrial use from trusted scale manufacturers combined with the most efficient, reliable, cost effective, weight-based solutions to a variety of industries. We provide scales for general weighing, floor scales and bench scales for shipping, warehouse scales, formula control scales, parts counting scales and analytical lab balances. AC WILLIAMS SCALE CO., LLC provides services to the Abrasive, Agriculture, Airlines, Automotive, Aggregate, Cement, Chemical, Electric Power, Government (federal, state, local and military), Food service, Fibers and Textiles, Heathcare, Pharmaceutical, Plastics, Pulp and Paper, Technology sector, Waste treatment and Manufacturing industries.
Scale services include scale setup, scale calibration, maintenance and scale repairs. Need emergency service?

24 hour emergency scale service is available

. We come when you call, anytime day or night, and are often to your site in under 4 hours. Our local, fully equipped scale service center and service vehicles, as well as our factory trained scale technicians will get you back up and running quickly.

Read More...

AC WILLIAMS SCALE CO., LLC. stocks a fleet of rental scales that are ready to go to get you back online fast!

Precision parts counting scales
Dual platform counting scales
Bench scales
Digital portable scales
Floor scales
Crane scales
Lab balances
Certified test weights
Digital force measurement gauges

In addition to scales, many other types of weighing devices are available for rental. Please

contact us

for a free quote.

Read More...

AC WILLIAMS SCALE CO., LLC has a wide selection of scales and weigh modules for your industrial weighing needs.

We stock hundreds of replacement scale parts, lab scale accessories and supplies. With so many options available, we have only listed a few featured products. If you do not find what you are looking for on our site, please contact us for more information.

Read More...
---
WHAT'S NEW AT AC WILLIAMS SCALE CO., LLC
As an authorized OHAUS distributor, AC WILLIAMS SCALE CO., LLC is ready to deliver accurate, reliable results for every job, big or small. The OHAUS MB Series of moisture balances pack a big punch in a small package, while their diversified portfolio of indicators is available in either plastic or washdown versions to give you exactly what you need for your biggest jobs. Equipped with sophisticated connectivity options and practical features, the OHAUS product line is prepared for whatever you ask of it.
OHAUS MB27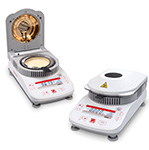 The OHAUS MB27 is designed to provide you with dependable, accurate results for a wide variety of moisture analysis needs, including food processing, pharmaceutical, construction, and chemical preparation.
Large 90g capacity makes the MB27 ideal for applications that require moisture readability up to 0.01%
Easy set-up and operation make for a simple, effective user experience
Compact, easy-to-clean design takes up less space and is ideal for frequent use
OHAUS T72XW INDICATOR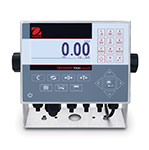 The OHAUS T72XW 7000 Series indicator has multiple functions, intuitive software, varied connectivity options, and the durability to stand up to your harshest demands.
50,000 displayed resolution and the ability to support up to 10 load cells
A wide range of connectivity options are supported by external control capabilities
Simple set-up and navigation allow you to get right to work, without wasting time
---
OHAUS Ranger® 3000 Series HD
OHAUS Adventurer® Totalization